Pharmaceutical Quality System (PQS)
Our PQS aligns with and complements our current business model and future business plans/growth while continuing to focus on regulatory compliance. Thus, our PQS supports our business from product development to compounding/market supply and through to product discontinuation. We envision our PQS to be an effective and integrated quality management system that is built upon the basic foundation of compliance to the cGMP's.
Our PQS mandates an independent Quality Unit (QU) with clearly defined responsibilities.
Our QU at SCA Pharma has the authority to create, monitor, and implement a Quality System and it has specific responsibility for the following:
Ensuring that controls are implemented and completed satisfactorily during manufacturing operations
Ensuring that developed procedures and specifications are appropriate and followed
Approving or rejecting incoming materials, in-process materials, and finished compounded product
Reviewing production records and investigating any unexplained discrepancies
Final release of the finished compounded product to market
In addition, the QU at SCA Pharma is organizationally independent of all other functions at SCA Pharma, including Operations.
Our PQS incorporates the following:
State of the Art Laboratories: SCA Pharma has state of the art in-house laboratories that support our global organization.
Chemistry Laboratory
The Chemistry Laboratory at our Windsor facility is responsible for developing and implementing robust analytical test methods that meet ICH validation criteria and that are stability-indicating. The laboratory conducts analytical release testing for each batch of finished product and full stability studies to support the product Beyond Use Date (BUD).
Our Chemistry Laboratory is equipped with:
High-Pressure Liquid Chromatography (HPLC)
Ultra High Pressure Liquid Chromatography (UPLC)
Liquid particle counters
Thermo and Caron stability chambers and refrigerators
Karl Fischer Titration
pH meter
Atomic Absorption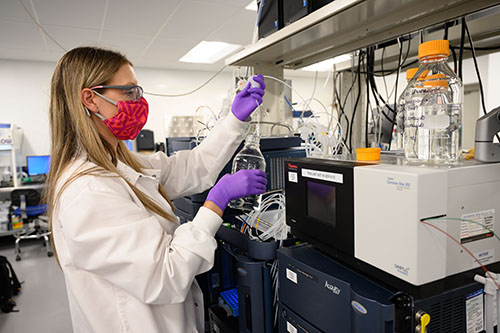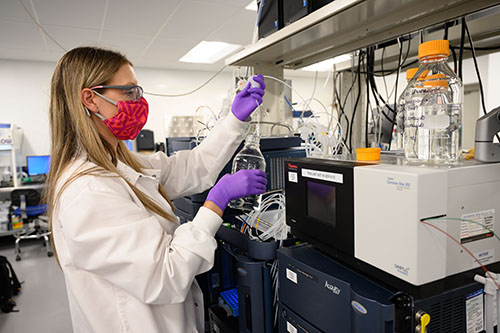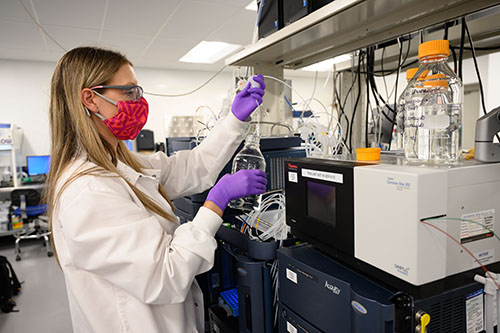 Microbiology Laboratory
Our Microbiology laboratories are equipped with state-of-the-art rapid technologies for sterility and endotoxin testing together with an automated microbial enumeration system. Microbial testing is performed on batches manufactured as part of a rigorous batch release process.
SCA Pharma's  investment in rapid micro technology supports our commitment to deliver safe and effective medications  to patients, as quickly as possible.
In conjunction with our Environmental and Personnel Monitoring program, SCA Pharma also has the capability to perform in-house microbial identification using an automated mass spectrometry system. Our microbial identification program continuously assesses and trends any  microbial recoveries from within our classified areas.
Each laboratory is equipped with rapid microbiological technology, including:
SCANRDI Rapid Sterility Test
Endosafe-MCS System
Growth Direct Rapid Micro Testing